About Napkin Rings
They can be as simple as strips of ribbon or as elegant as bejeweled silver rings or porcelain rings designed by Versace, but napkin rings, whatever their form, all have the same purpose – to bind a clean napkin, generally cloth, and keep it in place at each dinner place setting. The process of folding napkins renders them more attractive, but so do napkins rings, and with less time expended when a host is rushing to prepare for a sit-down affair.
advertisements
Just so long as they will hold an entire napkin, rings can be made from nearly any kind of substance – paper, plastic, metal, wood, glass, ceramics, you name it. They can be purchased, generally in sets of four or eight, online, at antique stores, giftshops, and department stores. They can also be hand crafted at home. For instance, if you are handy at cutting glass, you can make attractive rings from the tops of long-neck beer bottles. Sculpey Clay can be used to bake in your home oven ceramic rings that you or your kids design yourselves. And you can keep your Uncle Finley out of trouble by having him whittle you some rings out of a chunk of walnut.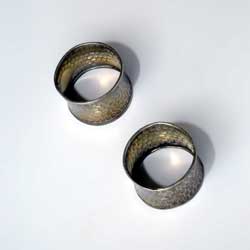 But, ever since napkin rings began being crafted in 1836, the most popular ones have been made of silver. (Napkin holders date back to the Middle Ages, but true rings did not emerge until much later.) These have recently found a good market with collectors. Extremely ornate napkin rings made during the Victorian and art nouveau periods can be very ornate, the more valued ones designed by such silversmiths as Georg Jensen, Tiffany, Liberty, or Gorham – true works of art that bring high prices at auction. Birds, animals, and children were popular themes for the craftsmen. Rings were sometimes made in combination with other pieces such as vases, butter dishes, or salts and pepper shakers. It's rare, however, that such sets can be found today.
Some collectors specialize in various types of rings – those used by children (some featured letters of the alphabet or nursery rhymes), those bearing ornate engravings of the owners' names, "breakfast rings" – small rings used in Germany and Holland to hold paper napkins at breakfast, and many other varieties. English rings are especially interesting because they are stamped with their date of manufacture and the city where they were made (usually Birmingham, London, Chester, or Sheffield). The really nice thing about these kinds of antiques is that they hold their value even while you can continue to use them at your dinner table.
Napkin rings fell out of use about the time paper napkins were becoming popular in the early 20th Century. But they were brought back into popularity through their use in the Eisenhower White House of the 1950's.
Should you happen to be a guest at an occasion where napkin rings are being used, it's considered polite, when you are done eating, to place your used napkin back in the ring.